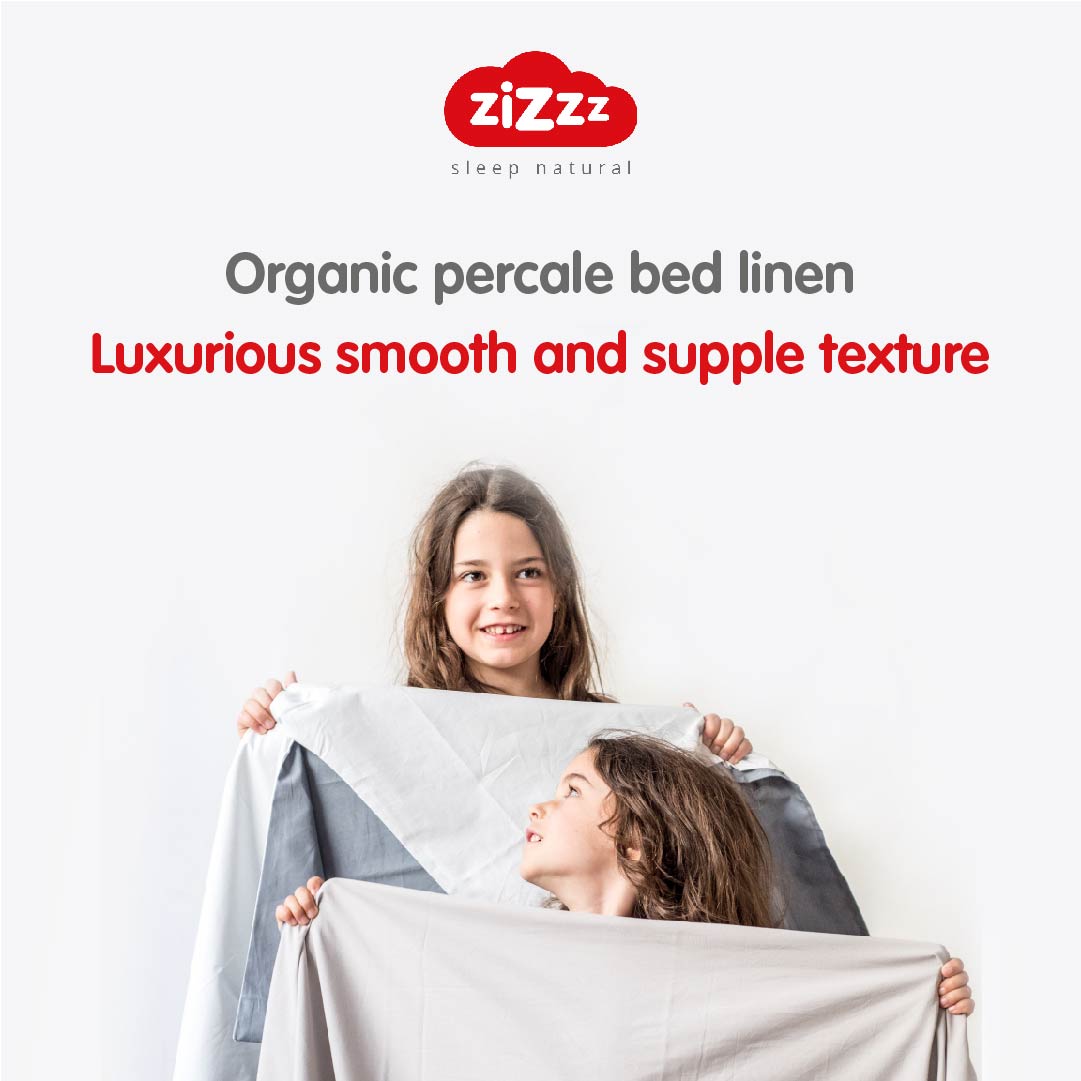 + Soft Percale: Our organic percale combines comfort with durability. Available in various bicolour patters, which are one colour on the top side and another on the bottom.
+ Soft and breathable fitted sheets, duvet covers and pillowcases available in various sizes and colour patterns.
+ All products are made in the EU from organic cotton.
View all Reviews
Hide all Reviews
Fühlt sich gut an.

Knittert sehr stark und fühl sich kühl und unangenehm auf der Haut an.

Knittert sehr stark, fühlt sich kühl und unangenehm auf der Haut an.

Glücksstern Duvetbezug fühlt sich sehr angenehm an. Die Lasche finde ich aber unpassend und unpraktisch, die sieht nicht schön aus wenn sie immer rausfällt, hätte lieber einen richtigen Verschluss.

Schönes Material, hält die Decke gut in Form. Angenehm kühl.

Same as before.

Given the price, I expected sheets that feel higher-quality. To me, the fabric feels quite thin and not particularly soft. But maybe my expectations of organic cotton at this price point were too high, and in any case I appreciate being able to buy more ethical products at a more affordable price.

Sehr gute Qualität, fasst sich ganz toll an, und das Design ist kindgerecht.

Belle couleur, super qualité

Belle couleur, super qualité !

sehr angenehmer Stoffgriff!

Top Produkt. Hat zwar seinen Preis, aber ist sehr angenehm und weich der Stoff

Gut

*****

coton de bonne qualité et épaisseur suffisante

Einwandfrei

vergleiche erster Kommentar.

Vergleiche erster Kommentar.

vergleiche vorher.

Da ich in einer Leinenweberei gelernt habe erlaube ich mir ein Fachurteil:erstklassige Ware!

Texture agréable.

Super agréable, surtout quand il fait chaud

Gute Qualität ***

schön

Schön und gut

I have not used the sheets yet but they look high quality.

Toller Stoff , sieht toll aus

Tolles Spannbettlaken. Gummizug könnte umlaufend sein.

Bonne qualité, agréable, prix élevé.

Très bonne qualité

Super

Super

Excellente qualité. Merci

Très bonne qualité.

Très bonne qualité.

Magnifique!

Absolument agréable au toucher.
Très beau produit.

Ergänzt das bestehende set. Super Verarbeitung . Der Verschluss ist etwas gewöhnungs bedürftig.

Sehr gut qualität

Sehr schönes Duvet, aber die Lasche ist nicht optimal ausgefertigt. Hätte wohl lieber Reissverschluss nehmen sollen...

Très beau et bonne qualité. Le duvet à juste de la peine à rester dans les coins mais ça doit être parce que c'est neuf.

Très beau et bonne qualité. Le duvet à juste de la peine à rester dans les coins mais ça doit être parce que c'est neuf.

Ich habe lange nach einem Fixleintuch gesucht, das nicht gestrickt, sondern gewoben ist und bin zufrieden

Ich habe lange nach einem Fixleintuch gesucht, das nicht gestrickt, sondern gewoben ist und bin zufrieden

Das Material ist sehr angenehm und schön verarbeitet. Bin sehr zufrieden

Das Material ist sehr angenehm und schön verarbeitet. Bin sehr zufrieden

Wir haben schon seit Jahren die Bettdecken und würden diese immer wieder vorbehaltlos empfehlen. Die Bettlacken machen soweit schon einmal eine n sehr gut verarbeiteten Eindruck. Für uns ist es wichtig, das Handelswege nachvollziehbar sind und auch dass ist hier der Fall

Produits exceptionnels et service rapide très soigné

Produits exceptionnels et service rapide très soigné

Produits exceptionnels et service rapide très soigné