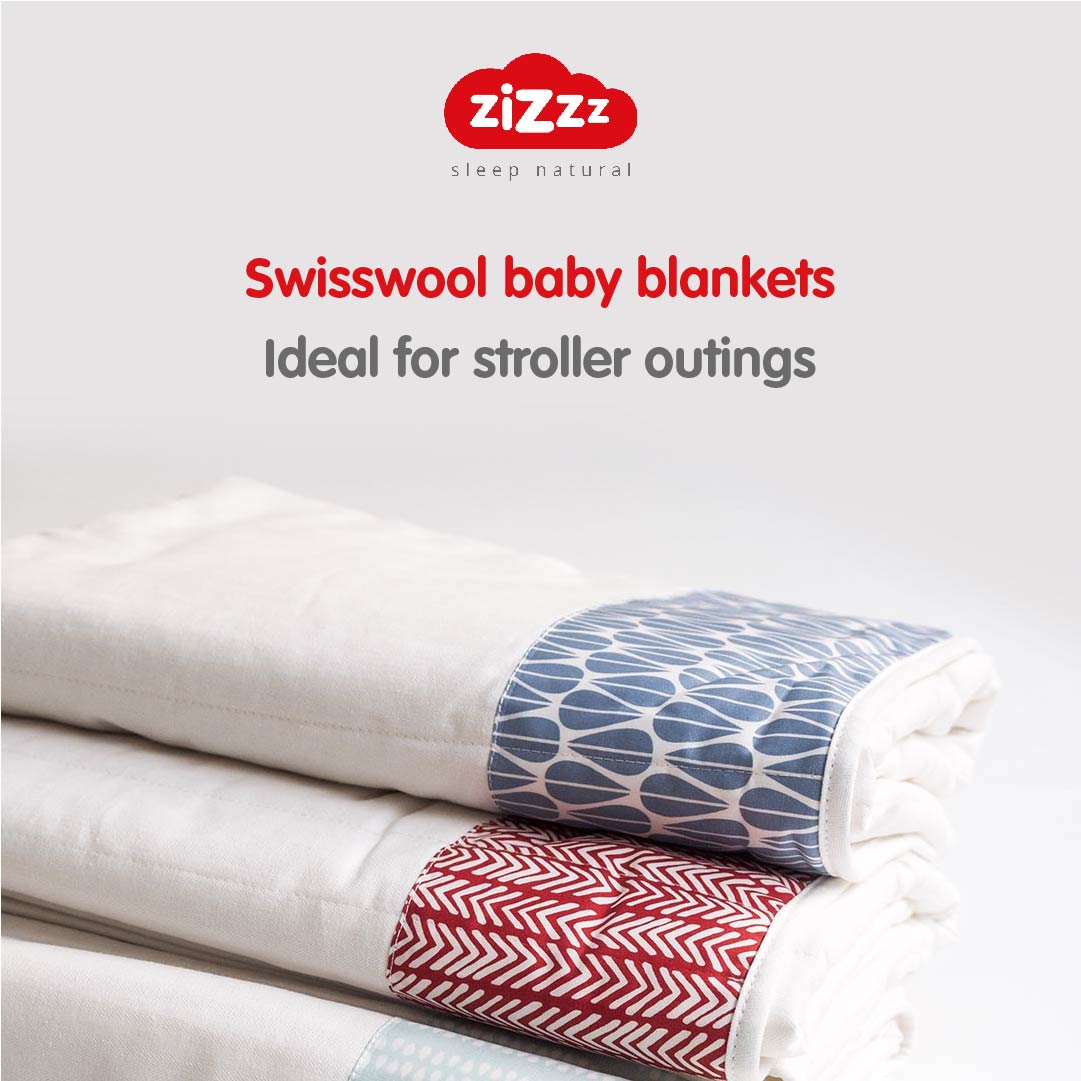 + Use our blanket to keep your baby warm when you take him out. Perfect for a stroll in the pram!
+ Our breathable Swisswool inside helps to regulate your baby's temperature.
+ Machine washable, Size 106x73 cm.
View all Reviews
Hide all Reviews
ich mag die eher flauschige Seite, lässt sich gut formen, ist nicht so starr

Très bien

Très bien

Super Qualität, tolle Verarbeitung

Simple, belle qualité et joli

Simple, belle qualité et joli

Praktische Decke zum Mitnehmen

Praktische Decke zum Mitnehmen

Qualität ist top. Preis-/Leistungsverhältnis stimmt

Qualität ist top. Preis-/Leistungsverhältnis stimmt

vielseitig einsetzbar

Beau produit (restera à tester!)

Para abrigar a mi bebé.
Lo recomendaría a otras madres.


brauche es als Decke im Kinderwagen oder für unterwegs am Boden
hatte nicht viele verschiedene Designs zur Auswahl

Tout mimi, tout doux et nous l'utilisons par tous les temps et à toutes les saisons. Très facile d'entretien (lavable en machine, pas besoin de repasser) et la couverture tient sur la longueur!!

Tout mimi, tout doux et nous l'utilisons par tous les temps et à toutes les saisons. Très facile d'entretien (lavable en machine, pas besoin de repasser) et la couverture tient sur la longueur!!

Sehr gut!

Belle taille et agréable. Un peu trop rigide encore.

wenn mein grosskind bei
mir schläft. sehr zufrieden.
Baby blankets for prams - Also ideal as a play rug
The stroller is a place of relaxation and safety for babies and toddlers. After the exciting events of the day, a baby comes to rest in the pram and can satisfy his or her sleeping needs. Babies can also get to know their environment and discover new things in the pram.
It is therefore of particular importance that the child be dressed appropriately when being pushed around in the pram. On colder days, we therefore recommend using a baby blanket while your baby is in the pram. You can test whether your baby is too warm or too cold by checking whether his or her neck is damp. If your baby starts to sweat, you should remove a layer of his or her clothing or pull down the blankets.
Our baby blankets can also be perfectly combined with our footmuffs and keep your baby comfortably warm, even on very cold days. The baby blankets for prams can also be used as play rugs and are ideal as changing mats. Our baby blankets can also be used for toddlers. Like all our products, our baby and children's blankets are made only from natural materials and are hypoallergenic. They are also machine washable with the wool program of your washing machine.
In what sizes and colours are the baby blankets available?
Our baby blankets are available in the size 106x73 cm, which means they'll fit perfectly in any pram. The size of the baby blankets is also ideal for small children; they will protect your child sufficiently from the cold and keep him or her warm.
Our baby and children blankets are available in 9 lovely designs and they match perfectly with our other products.
Which material is best suited for baby blankets for prams?
Many options are available when it comes to baby blankets on the market, among these are included blankets made from synthetic fibres. While synthetic fibre blankets are often cheaper, they also present some serious disadvantages. Synthetic blankets aren't breathable, which means that heat can build up underneath it, making it too hot for your baby. In addition, sweat is not absorbed well, which can lead to unpleasant odours and bacteria build-up.
At Zizzz, we are convinced that natural materials are better suited for children than synthetic materials. Not only are they better for the environment, but they are also very gentle on the skin. Like all our products, our baby blankets are made from 100% natural materials and are therefore biodegradable. Our fabrics do not irritate the skin and are hypoallergenic.
Organic cotton: temperature-regulating and long-lasting
The use of synthetic pesticides, fertilizers and other chemicals is absolutely forbidden in organic cotton farming. This means that our baby blankets are completely free of harmful substances and do not cause allergies.
Our organic cotton is GOTS-certified and follows the same guidelines as the cultivation of organic wool. Not only is the farming of the cotton strictly controlled and monitored, but also the entire production chain, as well as various social criteria. For example, even the packaging and brochures that our organic cotton products are delivered in have to be certified as organic! In addition to pesticides and fertilizers, the use of chemical defoliants for harvesting is also prohibited, as these can later cause skin irritation.
Our organic cotton is extremely skin-friendly and gentle on your baby's sensitive skin. However, organic cotton also has other advantages to offer: Organic cotton is breathable and can absorb moisture better than synthetic materials.
It has a cooling effect on the skin in summer and a warming effect in winter and can optimally regulate the temperature of babies or toddlers. This prevents heat accumulation under the blanket, so your child shouldn't sweat excessively. In addition, organic cotton prevents the formation of odours; due to the very good moisture regulation, no bacteria or mites are formed.
Cotton is also long-lasting and rarely tears. Therefore, our baby blankets can also be used as play rugs.
Swisswool: a unique, natural product
Swisswool is pure virgin wool that comes directly from sheep in the Swiss Alps. For a long time, Swiss farmers had to throw away their high-quality wool, as no one wanted to buy it. Thanks to the inventors of Swisswool, who developed a way to reinforce it and make it machine washable, a new use for wool has been found and has breathed life into this sector of the Swiss agriculture industry.
Every year, approximately 400 tons of new wool from all over Switzerland are produced, which is then further processed and is perfectly suitable for use in the textile industry. No chemical substances are used in the further processing, which is why Swisswool is also extremely gentle on sensitive skin and is ideal for baby or children's blankets.
Swisswool can also regulate moisture and neutralise odours. In addition, Swisswool is also temperature-balancing, as the crimped wool fibre consists of 85% air and provides optimal heat and cold insulation.
New wool is also relatively easy to care for, as it neutralises odours and harmful substances through the protein molecules of the wool fibre. Products made from Swisswool can therefore be simply aired out and then no longer smell.
Our contribution to sustainability
In order to cause as little harm to nature as possible, only natural materials are used in our baby blankets. Our fabrics are one hundred percent biodegradable and free of harmful substances.
Our baby blankets are long-lasting and durable, which makes them particularly sustainable. By using Swisswool, we not only promote sustainability, but also support farmers throughout Switzerland in the preservation of the countryside, as controlled grazing can help prevent erosion.
We try to keep our transport routes as short as possible to reduce CO2 emissions. This is why our new wool comes directly from farmers in the Swiss Alps and is then processed in Europe.